Wifipool module RX incl probe Gold (salt electrolysis)  + tapping saddle 50mm -> 1/2 inch + probe gland + calibration liquid + USB transformer plug 1 connection complete kit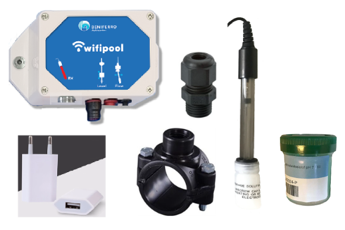 Wifipool module RX incl probe Gold (salt electrolysis)  + tapping saddle 50mm -> 1/2 inch + probe gland + calibration liquid + USB transformer plug 1 connection complete kit
---
The complete kit "Measuring box Redox Wifipool" contains all the parts needed to measure the Redox (chlorine) of your pool in a 50 mm tube. To automatically control the Redox (liquid chlorine or salt electrolysis), it will be necessary to combine the box with a salt electrolysis device , or a peristaltic pump (liquid chlorine) + smart plug.
The Redox measuring box can be expanded with a flow measurement and a level measurement (for example of the acid container), to stop addition when there is no water flow or when the acid container is empty.
Warning: The probe supplied in this kit is a gold probe for "salt electrolysis". In salt electrolysis, hydrogen is generated, and that hydrogen reacts with the cheaper platinum probe, and makes it unusable.
The WIFIPOOL app is available for Android and IOS.
Contents of the box: Redox probe (gold) for salt electrolysis with swivel and 50 mm clamp saddle, Wifi measuring box for Redox, flow and level, calibration fluid, 5V USB connection. The flow switch and level measurement are not included.