Frequency regulator IP20 230V - 1.5 kW (2HP)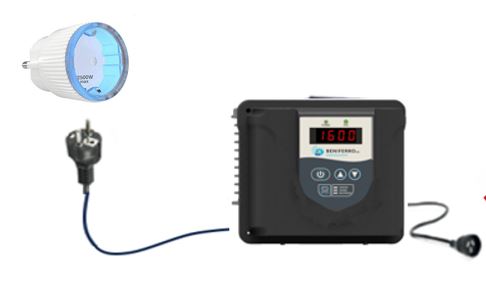 Frequency regulator IP20 230V - 1.5 kW (2HP)
---
With a frequency converter you can slow down the speed of the filter pump. This means lower energy consumption, while filtration and purification work better at lower flow rates. You only need the full power of the pump for starting up the pump, backwashing and cleaning/suction!



| | |
| --- | --- |
| | Filter pumps are the largest energy consumers in the swimming pool. With this regulator you can easily reduce consumption by 50% and usually the regulator pays for itself within a year. |

With this "plug & play" controller you don't have to program anything. As soon as you plug it in, the pump starts for 1 minute at full speed (2900 rpm), and after 1 minute, goes to the last used setting.

To adjust the speed of the controller, press the "up" or "down" key.
You cannot program the frequency inverter itself.
| | |
| --- | --- |
| | To set a time program, use our Wifipool smart plug. With this plug, you can immediately measure the power consumption of the filter pump. |
The installation of the controller is also extremely simple: you plug the wifipool plug into the wall, the frequency controller plug into the wifipool plug and the filter pump into the controller's plug

This frequency controller is suitable for swimming pool filter pumps with a capacity of up to 2HP = 1.5kW.

Warning: Never place products other equipment other than a 240 V filtration pump behind the frequency converter.



In the box: Wifipool plug 10A, variable speed drive with European male and female plug (length 1 m) for pool filter pumps up to 1.5kW (2HP), wall mounting plate and manual. Not included : Wi-Fi pool Smart plug or plug with timer.




Manual - Quick start guide - Youtube - Folders - Spare parts