Ferrosalt salt electrolysis HS (high salt) 16g/h Chlorine with RX and pH controller, flow and level detection included - Pool up to 50m³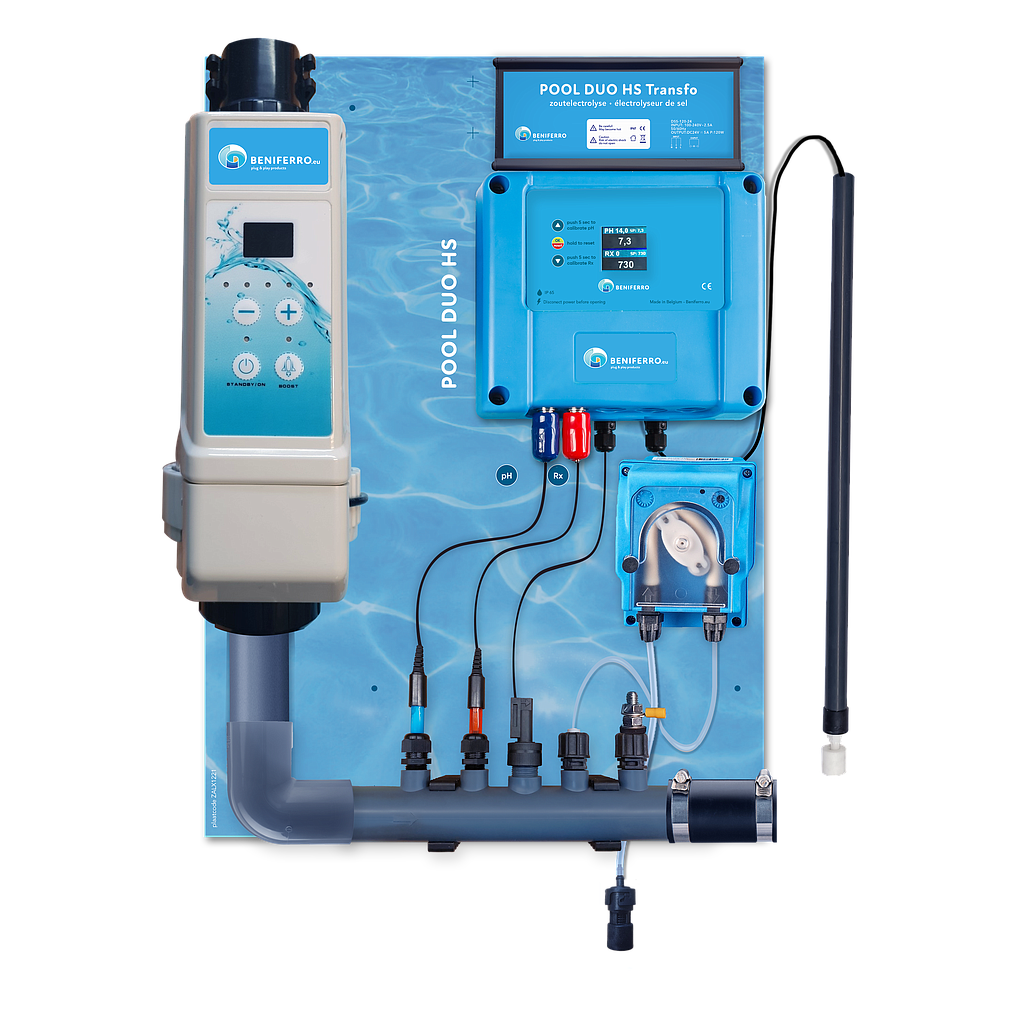 Ferrosalt salt electrolysis HS (high salt) 16g/h Chlorine with RX and pH controller, flow and level detection included - Pool up to 50m³
---
The Pool Duo salt electrolysis is a high-quality salt electrolysis water treatment device at an incredible price. For the electrolysis to work, you need to add 4 g of salt per liter of water. Salt is converted into chlorine, which – after disinfection – is converted back into salt. The Pool Duo will also adjust the pH: during the formation of chlorine, the salt electrolysis will increase the pH. The peristaltic pump starts automatically at the right time to dose pH.

The "flow switch" will stop dosing products in the absence of water flow. Level detection stops the dosing of the pH neutralizer, when the acid container is empty, is optional.
As soon as the water passes through the measuring/dosing nipple, the equipment measures the pH and the Redox (chlorine) and automatically adjusts the pool values. When used correctly, you are 100% sure of clean and healthy water.
Thanks to electrolysis, you have much less irritating products and less pool odor. For this reason,"do-it-yourselfers" of the swimming pools. indoor swimming pools. In the box: Swimming pool duo electrolysis with salt control of pH and soil. All accessories for installation and use (probes, rubber joints, calibration solutions, etc.) are included (except salt and acid).
In the box: EC salt electrolysis with display control unit and all accessories for assembly and use: probes, flow switch, level controller, peristaltic pump with suction and injection parts, rubber connections, grounding, calibration solutions ... .


Manual - Quick start guide - Youtube - Folders - Spare parts