Salt electrolysis EC 20g/h (75m³ no pH/chlorine control)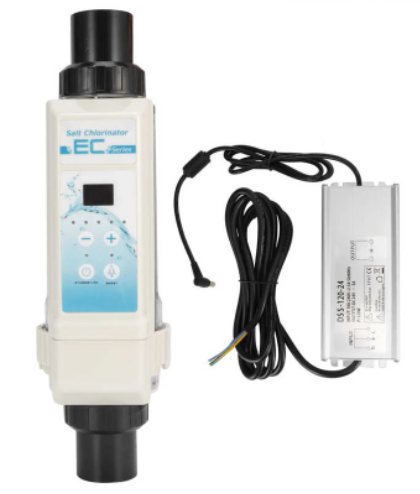 Salt electrolysis EC 20g/h (75m³ no pH/chlorine control)
---
The EC salt electrolysis is a high-quality salt electrolysis water treatment device at an incredible price. For electrolysis to work, 4 g of salt per liter of water must be added. The salt turns into chlorine, which becomes salt again after disinfection.

Characteristic of the EC is the simplicity of installation and use. The control buttons are "intuitive" and the device is easy to install.
With our Wifipool app and a Redox (chlorine) module you can easily automate the device. Once the set point is reached, the app stops chlorine production. Warning: Each salt electrolysis device generates pH+ during chlorine production. Therefore, the pH will rise and will have to be adjusted with pH-. This can be done automatically by means of a Wi-Fi pH control module.
The installation of a "flow switch" (possibly in the Wifi Chlorine or pH module), stops the dosing of the products in the absence of water flow. Level detection stops issuing pH when the container is empty.
Thanks to electrolysis, you have much less irritating products and less pool odor. For this reason,"do-it-yourselfers" of the swimming pools. indoor swimming pools.
In the box: EC saltwater chlorinator with transformer (and plug).
Manual - Quick start guide - Youtube - Folders - Spare parts