Temperature probe benisol - 25cm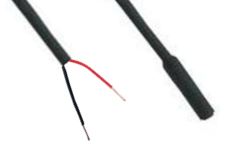 Temperature probe benisol - 25cm
---
This NTC temperature probe is suitable for use with the Benisol temperature controllers. It is absolutely not recommended to use an NTC probe other than this one, because too many parameters (including the resistance of the probe) influence temperature measurement.
The head of the probe is 5mm thick and 25cm long, and fits exactly into the corresponding sleeve.
To extend the probe, you can use our appropriate extension board.