Peristaltic pump 1,5l/h with Wifi pH plug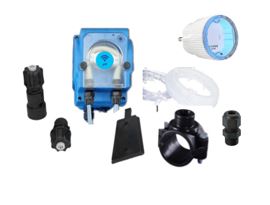 Peristaltic pump 1,5l/h with Wifi pH plug
---
This article is a simple peristaltic pump 1.5 liters/hour in combination with a smart Wifi plug.
The WIFIPOOL peristaltic pump will start up in the pool according to the automations defined in the wifipool app: if the pH is lower / higher than the set point, the peristaltic pump will add pH - / pH +.
For a 50m³ swimming pool, 0.5 liters of liquid pH per day are consumed in intense use / hot weather. So the pump will run for about 20 minutes a day.
The pump comes with suction feet, complete injection parts for installation on pipes with a diameter of 50 mm. The pH/Redox measuring boxes are available separately. The smart plug is a 10A plug with power measurement.
The WIFIPOOL app is available for Android and IOS.
Contents of the box: WIFI peristaltic pump, smart plug 10A, clamp saddle 50mm - 1/2 inch, probe gland, suction foot, suction and injection hoses and injection nipple.
Manual - Quick start guide - Youtube - Folders - Spare parts