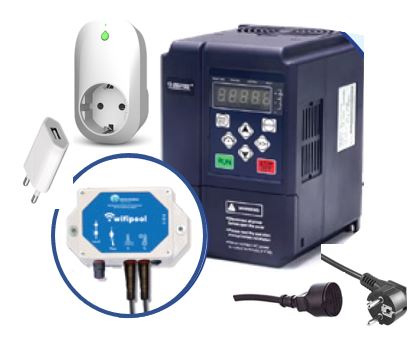 Frequency regulator for filter pump 240V - 1 HP - 750W
---
A frequency regulator allows you to slow down the speed of the filter pump. This means lower energy consumption, while filtration and purification work better at lower flows. Only for starting the pump, back wash and cleaning / sucking you need the full power of the pump!


Filter pumps are the biggest energy consumers in the pool. With this controller you can easily reduce consumption by 50% and usually frequency regulator pays for itself within a year.


With this controller you can control the frequency of the filter pump with your mobile via Wi-Fi and follow the electricity consumption on the screen of your phone. Since the programming is done via Wi-Fi, it is perfectly possible to increase the frequency while, for example, chlorine is dosed into the pool to improve the mixing of chemicals and thus prevent overdosage.
The 0-10 Volt control module - which transmits instructions from the mobile phone to the frequency regulator - also contains the connections to detect a flow and two inputs for our temperature sensors. Flow meter and temperature probes must be purchased separately.
The controller is fully pre-assembled. It is enough to insert the plug of the filter pump into the frequency regulator plug ...
Warning: Never place products other than a 240 V filtration pump behind frequency regulator.
In the box: 16A smart Wifi socket with power consumption measurement, 5V plug, pre-assembled 0-10 Volt control module with connections for flow detection and 2 temperature probes, frequency regulator with male and female plug. Flow switch and temperature probes not included.