WIFI Automatic 3-weg valve 50 mm L-bore with TLF temperature control module and temp sensors (1 & 3m) - plug & play type Hidro complete kit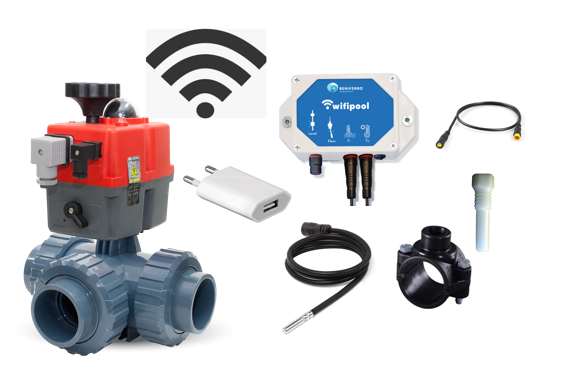 WIFI Automatic 3-weg valve 50 mm L-bore with TLF temperature control module and temp sensors (1 & 3m) - plug & play type Hidro complete kit
---
EPDM solar heating is the most economical and ecological way to heat a swimming pool.
The automated temperature control kit Wifipool contains a motorized WIFI three-way valve, the TLF measuring box (Temperature x 2, level, flow rate) with 2 thermocouples and sleeve for the temperature probe. The sensors measure the roof temperature and water temperature. As the sun heats the sensors to a higher pool water and roof temperature, the valve will – thanks to the automation of the "Wifipool" app – turn to the "heat" or "pool without heating" position.
The Wifipool app is available
all installation parts
.
There is also an analogue